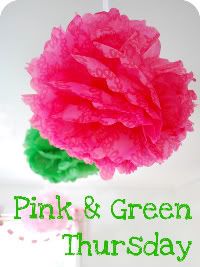 I woke up in an "ugh" mood and really didn't want to get out of bed...perhaps I should go back to bed and try again.
We had a lovely tea party last week and this week celebrating Pink and Green Thursday.
I decided we need a vacation. I need and want a vacation so very badly, but that isn't happening today, so let's just close our eyes and Bewitch or Jeannie our selves here.
Or get that Fairy Godmother to hop us on over.
To these pink sands

.
We can sit, soak up the sun, chat and gossip, drink yummy drinks with these umbrellas and leave the "real world" behind.
Hope you'll join me. Thanks again to the sweet
Trish
for starting Pink and Green Thursday.
Happy Thursday. Have a great day!