"The earth is a generous mother; she will provide in plentiful abundance food for all her children if they will but cultivate her soil in justice and in peace."
~ Bourke Coekran

Happy Earth Day! Let's go green (pink and green) shall we?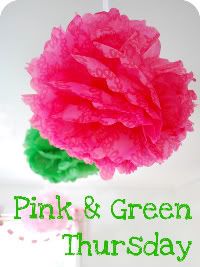 My lovely friend Trish has created Pink and Green Thursday. Even if you aren't a loyal follower of all things Pink and Green, I think you'll like our little journey today.

Let's pretend and go out to enjoy this beautiful day...

We'll be princesses while playing in this fortress and field. (I think Mini #1 needs this.)
While out frolicking, we will find these lovely pink and green flowers
and these gorgeous hyanciths.
We'll make the most beautiful bouquets for our tea party.

This will be my outfit. It's from Talbots. (Let me just say that they have some CUTE things in their most recent catalog and online.)
and we will dine on these heavenly cupcakes. (Obviously calories don't matter while playing pretend or being a princess.)
While having a lovely afternoon together, we will Celebrate Life. (Isn't this sign adorable??? It's only $13 and is in a
new Etsy Shop
. They are offering 10% off as a grand opening special. Their colors are pink and green too...perfect)
I wish we could have that tea party and celebrate this crazy, wonderful life we live on this planet. I would have the best time with you all. Hope you have a wonderful day. Happy Thursday!

"Man must feel the earth to know himself and recognize his values.... God made life simple. It is man who complicates it."
~ Charles A. Lindbergh