Lately, Mini #1 has been obsessed with older pictures of Mr. and I (there are no new pictures of us...we only take pictures of the children.) There is one in particular from our rehearsal dinner that he likes to move around the house...it drives me nuts. Yesterday, I was explaining when that was taken and talking about our wedding.
He was asking why he wasn't there and I was explaining the timeline and that we were married "a long time ago before you were born."

I pulled out the BIG photo album from our wedding and he studied it. He was pointing out various family members and friends.

We got to a picture of Mr. and I on that glorious day almost 6 years ago and he looked at me and said "Mom, you were more pretty before I was born."

I just laughed. (You know the saying, if you don't laugh, you'll cry.)

Yes, yes my sweet boy, I was more pretty all those years ago when I was young, thinner, and only had myself to worry about.

****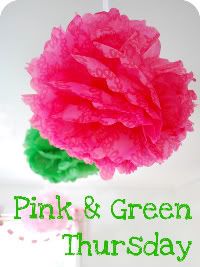 Wish I could be sipping one of these with my best girlfriends tonight while LOVING the new Sex and the City movie! Enjoy girls!

Also, head over to the sweet and lovely Trish who I just adore from Pink Preppy Lilly Lover who started Pink and Green Thursdays and is one that I totally wish I was seeing Carrie, Charlotte, Samantha, and Miranda with tonight. She is hosting a Lilly giveaway that you must check it out! Go on over now!
Happy Thursday! Have a great day!