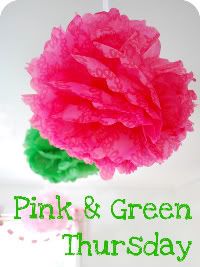 Who doesn't love bicycles? Who doesn't smile when they see colorful balloons?
These pictures just make me so happy...I really want to be on this bicycle right now!
You know I love cupcakes and these just made me happy too, so I thought I would throw this yummy picture in too!
Head over to my sweet friend
Trish's blog
and join in the Pink and Green Thursday fun!
Happy Thursday. Have a great day!