You look so tired...
I don't envy you...
I just don't think I could do it...
How long will this go on?
Oh Bless your heart...
These are some of the phrases that I hear most often when people find out about the Molly Lou family situation. You know, the husband that lives 2.5 hours away for work and the two minis bit at home bit.
I know that I am not the only one that does this or has heard one or more of the above phrases.
And the last one is the kicker...if you are from the South then you know what "bless your heart" really means.
Some of you are military wives and do it day in and day out for months. Some of you don't have a spouse and do it all alone every single day. Some of you don't have children, but work two jobs, go to school, have a hobby turned business, and still find time to be a wife, friend, etc. Some of you have my situation, but work full-time outside of the home too. Some of you are in school and mix in various elements of the above scenarios. Some of you are doctors, working the equivalent of three full time jobs, have children, and still manage to be an amazing mother. Some of you take care of loved ones and your broad of minis in addition to cleaning, cooking, chauffering, gardening, volunteering, and trying to stay sane.
You get my point. I am so sick of hearing "you look so tired. I just don't know how you do it" and I also do realize that most of the time it is said to be comforting or supportive.
You know what. I am tired. Really tired. I am stressed. I am thin (not physically, but emotionally)...some days I am not sure how much farther I can stretch before that great big hole stretches so far that I can't hang on any longer and I fall in.
I do it because I have to.
You deal with the cards you have been dealt. My husband has a career and unfortunately for us, his current project is 2.5 hours away from where we live. My husband's job that pays our bills and allows me to stay home with our children. That job that we are thankful he has as so many people aren't lucky as we are.
We made decisions that were best for us. For our children. For our family. Do I wish that my husband was here and home every night for dinner? Do I wish I had his help for so many things?
Absolutely, but this is the decision we made and we are doing what we feel is best for our family at this point.
I have two smart, amazing, unique, and excited children that depend on me for all of their needs and wishes.
I have a home that needs to be cleaned. I have a lawn that must be mowed and someone has to clean it. I have learned that the clothes don't magically clean themselves, so someone has to do the family's laundry. We are so blessed to have family and friends in our lives and someone has to send the birthday cards and wishes. I have a business that often has to take the backseat, but one that I desperately hopes will succeed and one that has work to be done. I have children that need to eat, so someone has to go to the grocery store.
I have this need to show thanks for how blessed we are and to teach my children to be humble, productive members of society and ones that give back to their community. I volunteer for those less fortunate and help at church...it takes a village to raise a child. I also have the plague of not saying "no," so some of the stress is totally my own fault.
I do it because I don't have a choice. We all have different obstacles in our life that we deal with because that is our life.
If someone out there doesn't, then I need to take a peek in to your magic ball or you should hand over that unlimited money supply so I can hire someone to do 99% of these things.
***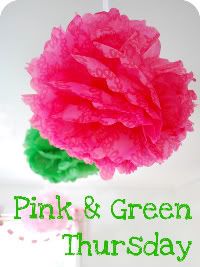 Rant over...sorry about that. Mini #2 is sick and that compounds some of LIFE. I think I need a mental health day to check out of life, so perhaps I can escape here and have one of these.
Jump over the the amazing
Trish's blog
and join in on her Pink and Green Thursday fun. Be sure to see her
post
from yesterday...guaranteed to give you a mental break. :)