I am dreaming of the smells, sounds, and sights of the holiday season. Go ahead, close your eyes and put yourself right there in December enjoying the hustle and bustle, holiday tunes, yummy smells of the baking cookies, the Christmas tree glimmering in the room. Ahhh...
Now open your eyes to enjoy the pictures today...
It is so easy to get in the holiday spirit and mood when it's 100 degrees outside with 1000% humidity.
In honor of Christmas in July, this week's Pink and Green Thursday is devoted to all the wonderful goodness the holiday season has to offer. Enjoy!
Come on back tomorrow. There is a Christmas in July happening over here! Happy Thursday.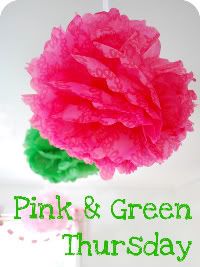 Head over to the fun of Pink & Green Thursday at Pink Preppy Lilly Lover. See who joined in the fun!
Let the Christmas Countdown officially begin!